They said that this time 15 Palestinians were killed in Gaza, including 4 children. No, wait, they have an update: 22, 25, 30 Palestinians were killed in Gaza, including 5 or 6 children. The victim tolls after the shelling are always preliminary because death is as greedy as it gets once it finds the streets of Gaza. More than 50 people were also injured, some sustaining serious injuries, but the TV stations and news websites are sure to bring us new numbers tomorrow, because the occupation's lust for blood seems insatiable. Killing children has become "normal", so has the death counters on TV and the causally "shocked" international reactions towards the fact that the occupation is capable of committing the heinous crime of murdering children. A moment later, however, the world goes back to business as usual… As if it were all nothing.
Israel has assassinated three leaders of the Islamic Jihad Movement, bombing their homes in Gaza at the break of dawn on Tuesday, May 9, 2023. They were killed along with their wives and children, bombs raining on the little ones' heads at exactly three o'clock in the morning as they slept, neither sound nor safe. Their breaths must have been soft, slow, and tranquil as a deep sleep enveloped them, nudging them into sweet dreamscapes; breaths that any parent in the world must know all too well from all the nights they checked in on their children to see if they were breathing, if they were well. The children were not on a battlefield when they died; that's for sure. Indeed, the children of Gaza do not make bombs in their leisure time. Like all other children in this world, they love to play games and have sweet treats, they plan school trips and seek big adventures (that do not include war), and they, like other children all over the globe, were supposed to have good night, to sleep tight and never let the bed bugs bite.
Israel had other plans. A little boy was murdered, a young girl was murdered. This is his face, this is her face, and this is the sad exercise we have accustomed ourselves to: we force ourselves to look carefully into their faces, into their eyes, to stop ourselves from getting used to the death of children. It is a cruel exercise, too… We search the photos for kids who look like our own, who have the eyes and quirks of the children of our family and friends, and we ask: is this child a little bit of my own? Is this a child I know? We are sure that somehow we do know them, even though we don't, as if all children were in some way related. Yet we continue to practice our grueling exercise, because we have to. Because it keeps happening again and again. Because bombs and tools that make death abound, particularly under the rule of the occupying state of Israel.
At dawn on Tuesday, entire families were annihilated, including the family of Jamal Khaswan who was killed with his wife and son. He was a doctor known for providing free medical services to Gaza's people in need as a way to create a social solidarity network that Gaza, the world's largest open-air prison, so desperately needs.
***
Gaza is where children are snatched from their temporary sleep and plunged into a sleep from which there is no return.
Mayar Ezz El-Din died at the age of ten.
Her brother, Ali, died at the age of eight.
Layan Madoukh died at the age of ten.
The youngest among them, Hajar al-Bahtini, died at the age of only five.
Iman Adass, a teenager, died at the age of seventeen.
In the second round of assault on Gaza, Tamim Daoud, a five-year-old boy, passed away when his small heart stopped due to fear of the bombing. Why should a five-year old suffer a heart attack? How is that even possible? One cannot begin to fathom the level of brutality that makes the killing of children so normalized, and one certainly can't imagine just how helplessly powerless must Tamim's mother and father have felt when they realized that they were unable to shield their child's heart from the horror. Small bodies, but also small souls are stolen by the enemy and nothing of the child is left. It is a complete kidnapping of our children; a back-breaking cruelty.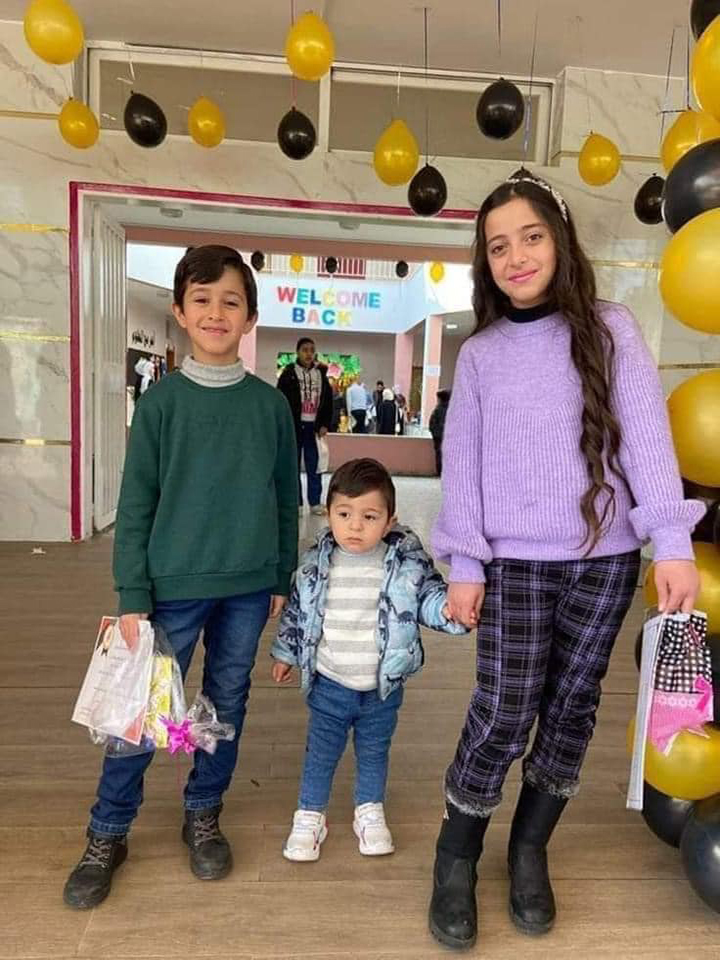 Martyrs Mayar Ezz El-Din (10 years old) (right) and her brother Ali (8 years old) (left)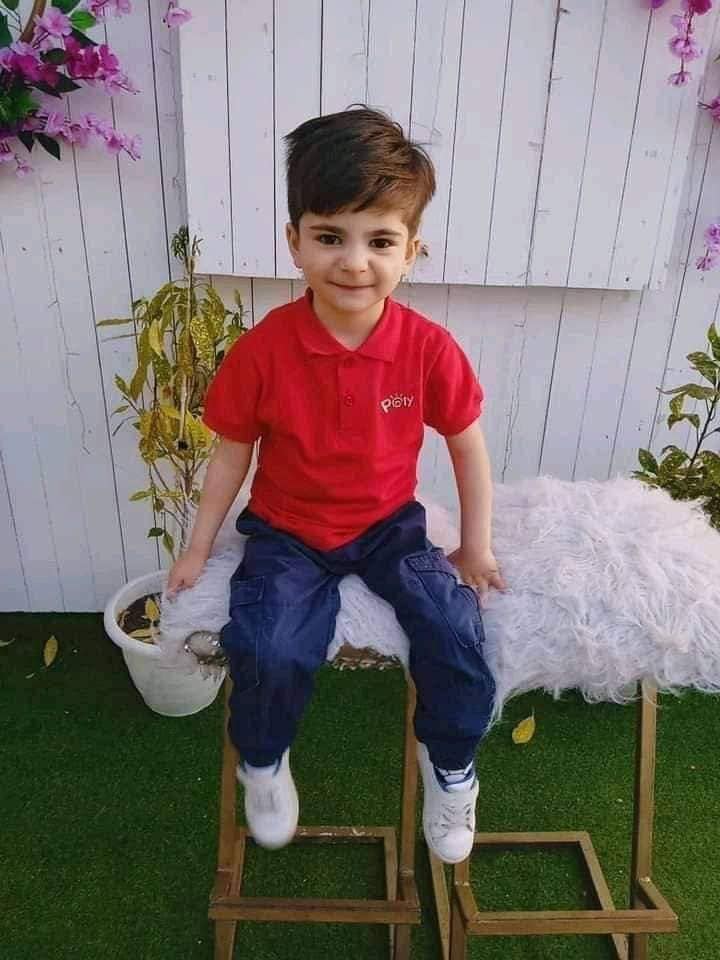 Child martyr Tamim Daoud (5 years old) who suffered heart arrest due to fear of the bombing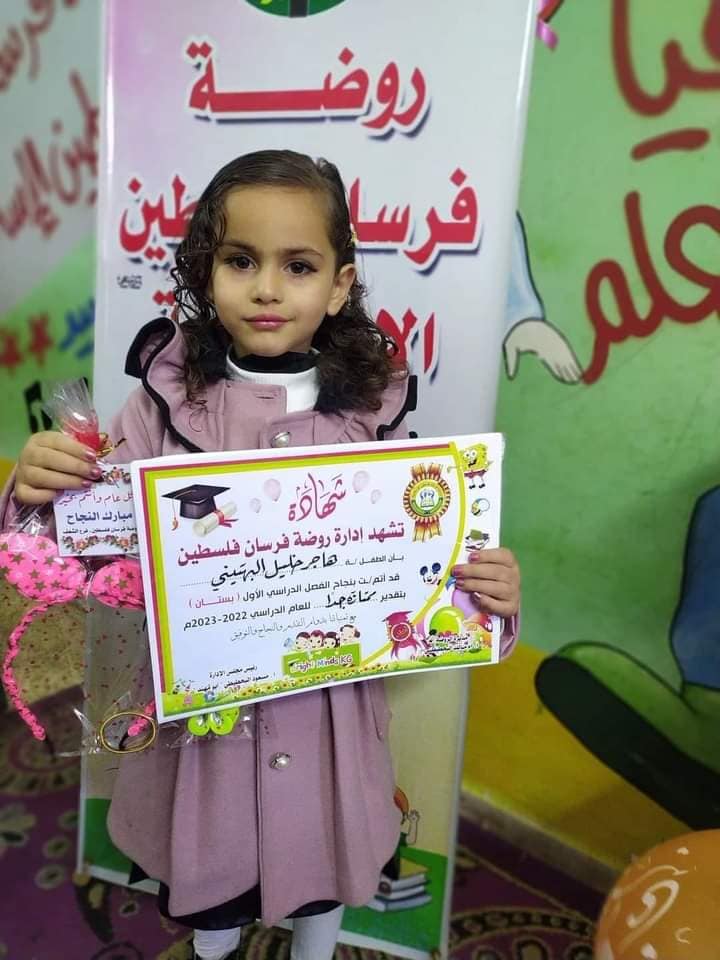 Child martyr Hajar Al-Bahtini (5 years old), the youngest of the killed children
Child martyr Layan Madoukh (10 years old)
Meanwhile, Israel's MPs and media have found some time to express concern, not about the killing of children but about Israel's public relations, its "Hasbara" and "image" and what those incur, in the most despicable approach to a matter as terrifying and serious as the killing of innocent children. But to the Israel, the little ones are nothing more than collateral damage, a mere scratch of the face of the occupying state. The greatest victim is Israel's precious "reputation", while kindness, care, and empathy are reserved in whole for the crying child in the settlement, never to the murdered, wounded, or orphaned child in Gaza.
The sleeping children of Gaza were so terribly alone.
***
According to the International Movement for Children in Palestine, the number of Palestinian children killed by the Israeli occupation in the West Bank and Gaza since the beginning of 2023 to date has exceeded 25 children, an average of at least 5 children every month. Murdering children has been a landmark practice and a historical criminal policy of Israel since the founding of its colonial state, before or after signing any international charters of children and human rights. In the past few years, 17 children were killed in the 2022 aggression while more than 60 children were killed in the 2021 aggression, always in the besieged Gaza strip where opportunities for jobs, success, and stability are scarce, where the youth are victims in life or in death, and where every child is either a martyr or the friend or relative of a martyr.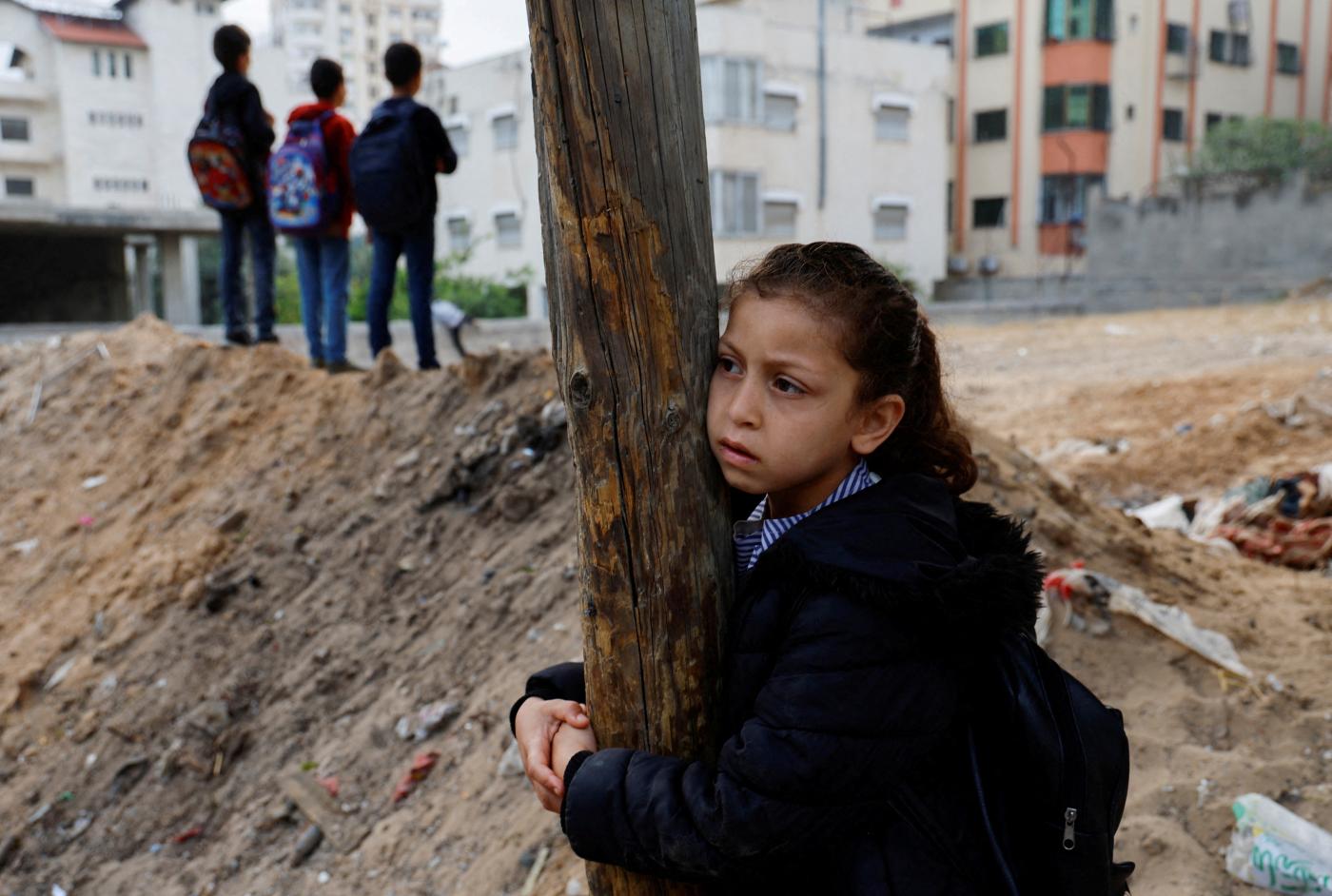 A girl staring at the bombing site on May 9, 2023 (Reuters)
In Gaza, children mourn children, and life elsewhere goes on. All of this death engenders no global panic. Today, the kids at school will place a rose at the desk of a classmate who will never show up to school again, never to plan another school trip or dream up futures. And as the children mourn children we go on practicing our exhausting exercise, looking them in the eye, searching their tiny faces for signs of life, and hoping that we could – at least- stop ourselves from believing that news about dead children is normal. No, it is not normal!